It is unfortunate that in a world so large, a certain section had to fight so long and so hard to express their true emotions and celebrate them like everyone else.  Even though the fight is far from being over, changes have certainly occurred.
The world is much more accepting of the LGBT community than it was some years back, and we can hope that in some years, there will exist no such difference in people's mind to "accept" it anymore. But till that day comes, we can count on the sheer spirit of the LGBT people to break free of the stigmas and people's biased judgements with their exuberance.
A few decades back, homosexuals had to hide their identities and operate in stealth if he or she or a group of them had to do something or simply have some fun together. But now there are LGBT events and festivals happening all around the world.
Here are 5 LGBT events and festivals that have opened up opportunities for the community to discover and express themselves.
GAY SPRING BREAK – SITGES, SPAIN
The Gay Spring Break is a popular gay party organised once a year by event management organisation, Delice Dreams. In 2017, it took place in one of the most picturesque and best gay beaches of Europe – Sitges, Spain. The week was celebrated with fun, frolic and music, as well as games and contests like a Drag Queen and Best Bum Contest, barbecue, pool party, Grindr party and appearances by gay celebrities.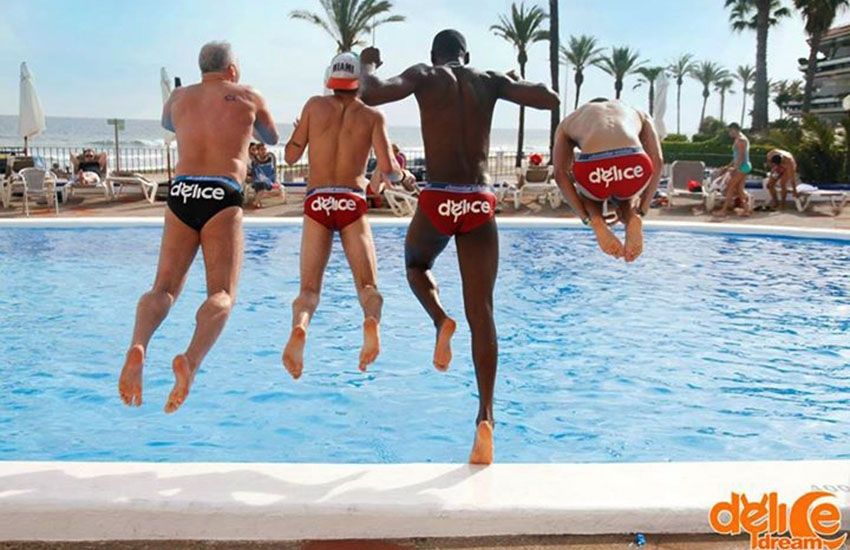 Next year, the same will take place under the bright sun of Torremolinos, Spain.
THE WINTER PARTY – MIAMI, USA
This popular and iconic celebration of LGBT pride goes on for six-days in the sunny beaches of Miami. Started with a dance party on the South Beach, this is now one a week-long celebration of dance, music, games, entertainment and DJ Nights. People from all around the world fly to take part in this festival.
The underlying objective of the party is much bigger. It is a fundraising endeavour by the National LGBTQ Taskforce, which donates a large portion of the amount to LGBTQ groups in South Florida for the empowerment of the community. In 2016, the Task Force donated a record-breaking $275,000.
TEDDY AWARDS – BERLIN, GERMANY
The only official LGBTIQ film award show at a mainstream film festival in the world is  the Teddy Awards. An offshoot of the Panorama section of the prestigious Berlin International Film Festival, it celebrated its 31st anniversary in 2017. Since 1987, it has been honouring works relevant to LGBT culture in categories like Documentary, Short Film and Feature Film.
In the 30th anniversary program in 2016, they showed the premiere of the restored Anders als die Andern (Different from the Others, Germany 1919) by Richard Oswold —the first gay film in cinematic history.
DINAH WEEKEND – PALM SPRINGS, CALIFORNIA, USA
Club Skirts Dinah Shore Weekend, popularly known as The Dinah, is a five-day weekend getaway party and music festival catering to the lesbian community that takes place every year around March in Palm Springs, California in the United States. It is considered to be the largest lesbian event in the United States as well as the world. The event offers a series of pool parties, night entertainment, live concerts by Top Ten Billboard recording artists, comedy shows, sport-games and social networking opportunities.
Debuted officially in 1991, the Dinah Shore Weekend was named after the late Dinah Shore – a singer, TV personality and renowned golfer who lived in the Coachella Valley and is known for having founded in Palm Springs the Colgate-Dinah Shore Winner's Circle.
TRANSGENDER FESTIVAL – KOOVAGAM, TAMIL NADU, INDIA
Koovagam is a village in Villupuram district, Tamil Nadu, famous for its annual transgender festival and transvestite individuals. The festival revolves around Lord Koothandavar and takes place at his temple every year around April-May. The participants marry the Lord, thus reenacting an ancient mythical story of Lord Vishnu marrying the same God after taking a form of a woman called Mohini. The next day, they mourn his death through ritualistic dances and breaking their bangles. An annual beauty pageant and several other competitions like singing and dancing contests are held.
People gather from different places to attend the festival, as well as the many seminars which talk about the basic rights of transgender and transvestite individuals.
This slideshow requires JavaScript.