It has taken us centuries to establish the fact that homosexuality exists naturally, and we cannot say the venture has been entirely successful.
So what about those who conform to neither heterosexuality nor homosexuality but traverse any such boundaries of gender and sexuality altogether? No brownie points for guessing, they probably don't exist in the orthodox society's eyes.
But actually they very much do.
The spectrum of gender identities is huge and colourful and these people belonging there proudly call themselves pansexual.
The Greek prefix 'pan' means all. Hence the term pansexual reflects those who are emotionally and sexually willing and capable of being attracted and falling in love with any person, regardless of their own gender and sexuality or the other's.
Just imagine the quantity and variety of options that opens up!
A pansexual person needs not to care whether the other individual is a male or female, straight or gay, bisexual, genderfluid or transgender. In a way, because of their sexual preference being so vivid and dynamic, they can treat people exactly the way they should be – as a unique and lovely individual.
Many argue that it is quite the same as bisexual or polysexual, but it is not; firstly, because those terms have slightly different meanings in literal sense. Secondly, because one's sexuality is a self-perception and subject to individual's identity in their mind rather than something objective that others can decide or tag.
It is because of the last mentioned point that many people, despite of all the controversies over the label, conform to it. Pansexuality is all about being open, fluid and liberal about one's sexual orientations and preferences and if they want to include literally the whole world in the list of people they can love, who are we to stop such a beautiful concept?
Though all the existing categories fall under the large umbrella of LGBTQ and take pride in the rainbow flag, each community has a separate flag of its own. The pansexual flag has three horizontal stripes of rose pink, golden yellow and turquoise blue, representing the female gender, the third gender and the male gender respectively. The third gender includes everyone who does not like to call themselves a man or a woman in specific.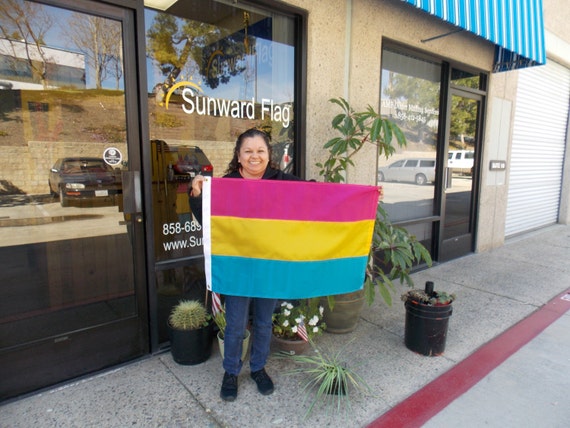 The pansexuals, being the bold and strong people as they are, have also claimed three dates of the year as their own. While June 17 is marked as Pansexual Celebration Day, May 24 is celebrated as Pansexual Visibility Day and December 8 is the Pansexual/Pan-romantic Pride Day.
The pansexual people in general have to deal with a lot of misconceptions from the society; even their peers. "You are confused", "You want to keep your options open" and "You are giving bisexuality a fashionable name" being some of them.
But inspirations are always there for those who seek it.
Like almost every other thing, we can also look up to the big bad industry of glitz and glamour for this. Some of the really big names that we have read daily in tabloids conform to being pansexual, or do not really conform to anything else – which in turn establishes similar sexual fluidity and serves the purpose. Here are some of them.
The former Disney girl has gone public many times about not being gender–binary or belonging to any one category of sexual preferences.
Suffering from Vitiligo, this Instagrammer, blogger and make-up artist uploaded a picture saying she is pansexual and hoping to see friends in Chicago Pride Festivities.
The Hunger Games star identified as "a black, bisexual woman" at first, but later Stenberg said they would use the identifier "pansexual" instead of "bisexual" if more people understood what it meant."
Asia Kate, who plays Brandy Epps in Orange Is the New Black and Taylor Mason in Billions, is the first openly non-binary actor to be cast in major TV show. Openly pansexual, Asia Kate prefers to use singular 'they' pronoun.
The American rapper Angel Haze is yet another they-pronoun user. They came out as pansexual in 2015.