On September, 2018, India witnessed one of the most historic decisions to be ever taken by the Supreme Court. After 70 years of independence, India was finally able to extend some of it to the gay, lesbian, bisexual, transgender and other members of the LGBT community.
The five-member bench of the SC came to a unanimous decision of reading down the 'unnatural sex' part of the code to only non-consensual actions and bestiality, and removed homosexual acts from it, thus decriminalising same-sex relationships. However, this is only a one-line summary of the epic judgement, the full version of it you can read here – Full Judgement.
Source: Women and Media Collective
However, India is not the only country which had this section in their constitution.
Section 377 and British colonialism
Section 377 of the penal code was established by the British Empire back in 1800s in all of their colonies stated all "unnatural" sexual acts to be criminal offence. Countries all over South and Central Asia, Africa and Australia were made subject to this law. In the book British Colonialism and the Criminalization of Homosexuality by Enze Han and Joseph O'Mahoney, they explain how this law was introduced in 1861 inspired by an even older Buggery Act 1553 that outlawed homosexuality in England.
Source: https://factly.in
In fact, the reason why the law was reportedly established is pretty unpleasant in itself. It was apparently imposed to keep British officials and soldiers posted overseas from "turning to homosexuality".
As bad as that sounds, it was way back in the mid-1800s. Sparing the very few countries which remained as the UK Overseas Territories, all the rest of them attained independence from the British by the end of late 20th century. Yet somehow, this more than a hundred-year old draconian law went on to be a part of the penal code based on which the judicial system of the countries ran.
Commonwealth countries and where they stand
Out of the 70 something countries in the world that criminalises homosexuality, around 42 of them were once under the British regime. There are some Commonwealth countries which have taken the step and have enforced quite effective laws in place, like New Zealand, Australia, Canada, South Africa, Hong Kong and many more.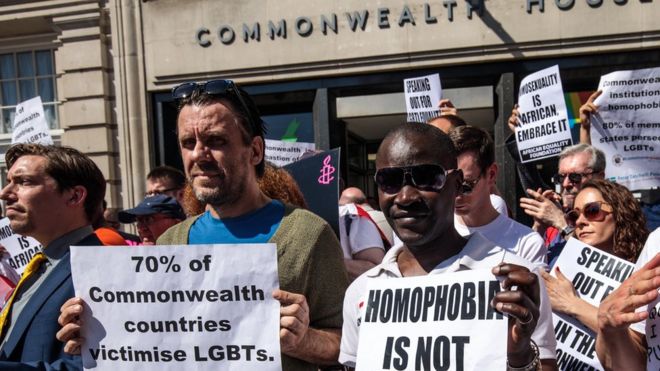 Source: BBC
After September 6, 2018, India falls under the group of countries which have legalised it, but has no anti-discrimination laws for protection, along with the Bahamas and Trinidad & Tobago, among a few others.
However, they are many others where it is not only illegal and often punishable by imprisonment and fine, but with really cruel death sentences as well. Most of these countries are African, some American and South Asian as well. In fact, India is surrounded by countries where it is a crime – Pakistan, Bangladesh, Myanmar and Sri Lanka.
Will the decision of SC of India make any difference?
However the situation stands as of now, the LGBT communities and activities from across all these countries are definitely hoping for a change. India is one of the largest countries of the Commonwealth, as it was the crown jewel of the British Empire back in the day. Such a historic ruling in the Supreme Court of India has lit a ray of hope that it might happen in the other countries as well.
For example, in Kenya, such an act is punishable by up to 14 years in jail. However, it is one of the comparatively "lighter" punishments, given that Tanzania deals out 30 years in prison and Nigeria goes for death sentence. There are some countries with lashing and whipping as punishment as well, like Sudan.
But what happened in India can possibly make some difference in some other countries. Kenya is currently awaiting a verdict on the same. The constitutional division of Kenya's High Court will be hearing submissions based on the decision by India's SC, from the parties fighting for decriminalising homosexuality on October 25. It has been said that the decision made by Indian SC will be considered seriously while reaching at the verdict.
An activist in Kenya (Source: http://www.newnownext.com)
Given that most countries of Africa have a very negative stance in this matter and South Africa is the only African country to have legalised gay marriage, people have high hopes for Kenya to pave the way further.
Another country to have a big effect is Singapore, which now has a punishment by up to two years imprisonment. The South-east Asian island country has a comparatively lighter sentence for the "crime" than its neighbours Malaysia, Brunei or Myanmar, which have 10-20 years of jail. As of now, the old code 377A is still in place which criminalises sodomy, but more and more people are opposing it.
A Pink Dot Rally in Singapore (Source: Human Rights Watch)
In a survey conducted by Ipsos Public Affairs in July-August '18, it showed that 55% of Singaporeans aged between 15-65 years supported the law, while only 12% strongly opposed it. Most of the latter were of the younger generation.
Followed by India's ruling, a Singaporean DJ Johnson Ong Ming, aged 43, has filed a court challenge, saying that section 377A is inconsistent with parts of the Constitution and is "accordingly void". Voices are being raised from the political field as well. Veteran diplomat Tommy Koh urged the LGBT community of Singapore to come out and challenge Section 377A following the Indian SC ruling.
Source: Asian Correspondent
To put it precisely, almost all of these countries, including India, need to do a lot of work to reach a place where the LGBT community gets the rights they deserve. Just because it is legalised does not necessarily mean everything is solved. However, the decision Supreme Court of India made is definitely a giant stepping stone towards reaching the next goals – and as it turns out, not only for India, but for other countries as well.