The workplace and its environment is a big part of a working person's life. A person, on an average, spends 1/3 of their day at their workplace.  It is quite a lot, given that over one lifetime we spend around 90,000 hours with our peers and colleagues. Needless to say, it is very important that our workspace sustains us, helps us grow and become the best of ourselves, all the while providing a safe haven to work and spread our wings in.
However, the situation in Indian workspaces has not been so, specifically for minorities. The vaguely constituted laws regarding issues like sexual or emotional harassment have failed to protect its victims in most cases. The recent surge of #metoo movement in India is slowly revealing the true face of it.
One particular section of the society who has been at the worst ends of it is the LGBTQ+ community.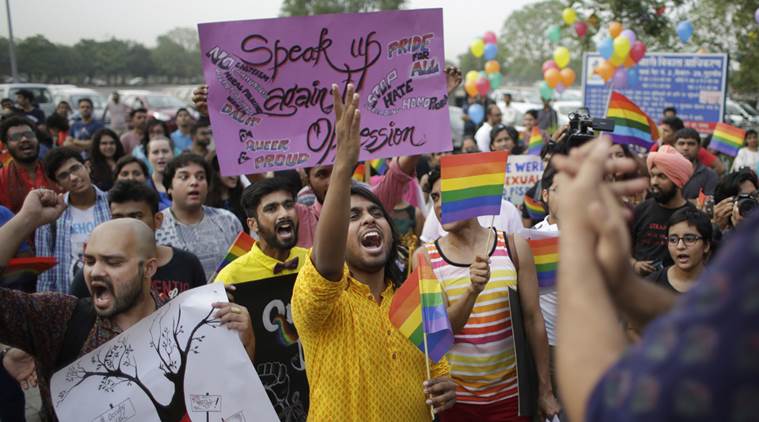 Source: The Indian Express
In the past decades, starting from lack of non-binary options in documents to regressive washroom policies down to mockery and discrimination based on gender and sexuality – the struggle has been really long and difficult. The fact that in most cases, the home environment for the LGBT employees was equally hostile did not make this any better.
However, it is also true that in the recent years, some of the big companies, both Indian and International, have come forward to set example in this matter. On September 6, 2018, Supreme Court struck down a part of Section 377, decriminalising acts of homosexuality.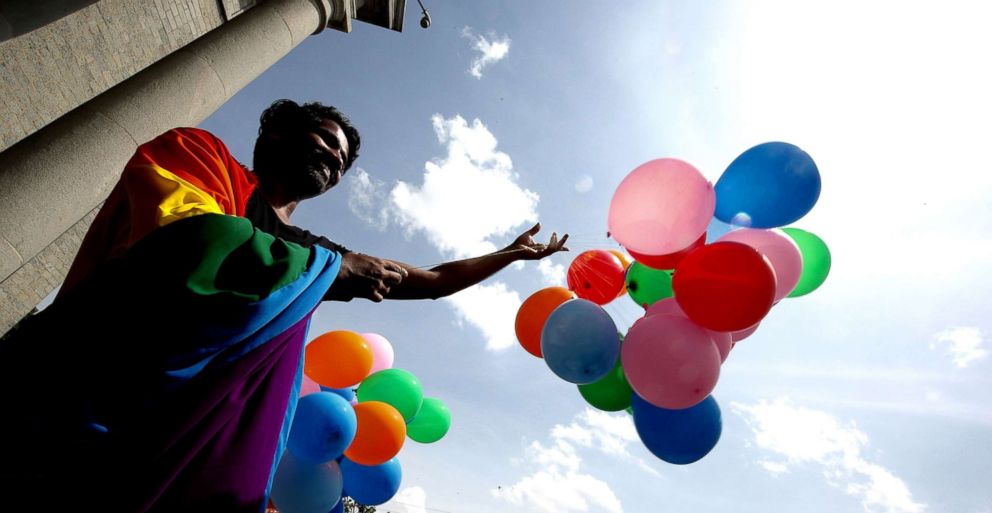 Source: ABC News
Three of the five main petitioners in the legal battle were actually entrepreneurs.
Hotelier Aman Nath and Chef Ritu Dalmia were among those who filed the petition in June, 2016. They were later joined in by Keshav Suri, the Executive Director of Lalit Suri Hospitality Group. These people not only identify as gay and are open about it, but they also work actively towards making their establishments as LGBT-friendly as possible.
When it comes to the academic sector, one of the most paramount institutions of the country, IIT was part of the fight as well. A group of 20 students and alumni alike of the Indian Institute of Technology came together to file yet another petition against Section 377. The petitioners represent Pravritti – an informal network of LGBT students, staff, faculty and alumni from all the IITs of India.
How LGBT-friendly is the Indian workspace?
It's been a while since LGBTQ+ inclusion in the workforce has become gradually normalised in big cities like Delhi, Mumbai or Bangalore. Employees from companies like Apple, Microsoft, Google and Facebook have mentioned in various studies how they feel much safer and more accepted in their workplaces than at home or society.
It is not just in big names. Many smaller companies and start-ups, often run by young people who have grown up with the internet and have a much clearer ideas about gender and sexuality, are also open and accepting towards the LGBT community. It is a real topic of discussion, especially in the corporate sector.
Source: The Tech Panda
But the case is not so everywhere. In smaller towns, suburbs and rural areas, the lack of awareness leads to hostility. Growing up in a society that has taught to disregard, make fun of or hate LGBT people, to use 'gay' or 'hijra' as slurs, or to overall ostracize them from the society, it is hard to unlearn them in adulthood. But that is exactly what needs to be done if one has to bring about changes.
A report by Open For Business released in January, 2018 said that around 40% of working gay people claims harassment and 83% report to have concealed their true identity in fear of it. The stress of hiding, along with the fear of consequence not only creates negative stress but also affects their efficiency and productivity as employees.
What should be done to bring the change?
One can say that in this particular case, unfamiliarity breeds contempt. This is the biggest barrier in making Indian workplaces more LGBT-friendly – mass ignorance. Half-baked knowledge, half-read concepts and half-known notions are more often than not behind discrimination among peers based on gender and sexuality. No matter how much the law changes on paper, until and unless active steps are taken to integrate it into the organisations, it won't do any good.
However, not all cases are that simple. There are cases of varying degrees, starting from systematic discrimination to sexual harassment. To counter that, companies need to have anti-discriminatory policies in place which address specifically the problems faced by LGBT community. Other than that, the plight of the community is also to be kept in mind while making other decisions, like employee benefits, medical insurances, mental health, parental leaves and many other aspects.
It is the responsibility of administration to formulate company rules accordingly, of management to make sure that they are followed, and of HR to take necessary steps in support of the community in case of otherwise.
The stepping stones
Every historic reform has thousands of stepping stones leading up to it. Behind the judgement that the Supreme Court of India passed in September, 2018, there are years of toil and hard work. While it is true that the current visibility of the LGBT community and the popularisation of the 'Pride' concept is a much newer thing, it is actually being accepted and imbibed in big companies.
Source: The Wire
As per the report mentioned earlier, many new leaders of Indian companies and Indian offices of International companies are being more and more open to the LGBT community and doing their bit. Godrej, Mahindra, RPG, Wipro are some of the bigger names. As per the report, Tata Steel aims to have 25% of its employment to be from diverse minority sections, of which 5% will be from the LGBTQ+ community.
Recently in Hyderabad, Salesforce launched its Indian chapter of Outforce – an employee resource group for diverse sexual orientation and gender identity. The team participated in the 2018 Hyderabad Pride Parade led by local LGBT communities.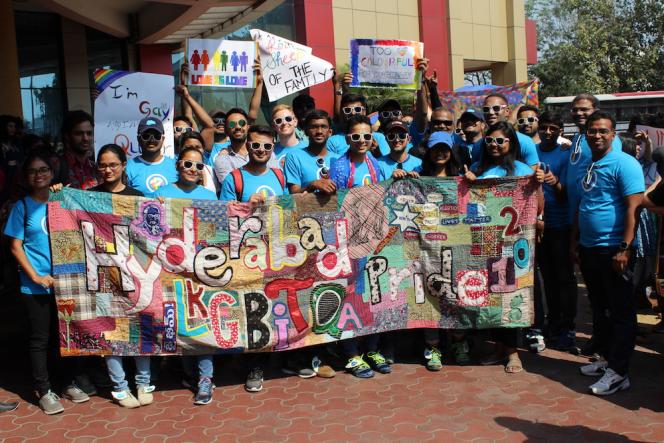 Source: http://www.salesforce.com
One can only hope that the rest of India Inc. will follow their examples soon enough. Now that even Supreme Court has declared it to be 'unconstitutional', there are simply no excuses that the companies can give any more.